FUJIWARA TERUYASU EDGED TOOL CRAFT: The
Teruyasu Fujiwara japanese kitchen knives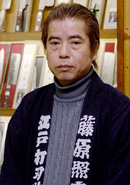 The company already exists as a manufacturer of Japanese swords since 140 years ago.
Teruyasu Fujiwara guarantees the hand making of his knives kitchen knives with the same method of making Japanese swords KATANA.
Teruyasu Fujiwara is the fourth successor to the Japanese tradition, make sure you may feel the products we provide and so authentic knives, strong tradition.
Teruyasu Fujiwara continues the tradition and improve its manufacturing skills of traditional Japanese swords, so that products are able to meet your needs, sharpness, long life !