Japanese cutlery:
| | |
| --- | --- |
| 1 Couteau Japonais > Jubilee knife, 30 years anniversary Kai Europe, Kai Shun PREMIER TDM-1717 | |
Jubilee knife, 30 years anniversary Kai Europe
Kai Shun PREMIER TDM-1717
Attention, this limited edition was completely sold out !
GetItem : Item `KAI-SHUN-PREMIER-TDM1717` not found in file ../datas/catFR.txt.php






Infos currencies : +/- 0FRF, 0BEF, 0USD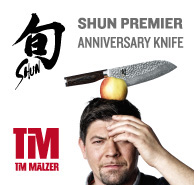 Information:

This Santoku Knife features the look and benefits of Damascus steel, yet without its rusting problems.
The Damascus-look HAMMERED blade profile reduces sticking and results in less damage to the food being cut and faster prep times.

For the trend-setting Shun PREMIER Tim Mälzer series, Kai has developed six additional knives made from corrosion-resistant 32-layer damask steel. It is embellished with a hand-hammered surface which in Japan is known as Tsuchime, thus combining timeless aesthetic qualities with ultimate sharpness. The blades have a massive core of VG-10 steel with a hardness of 61±1 HRC.
In analogy to the limited Anniversary Knife, great importance was attached also in this series to the knives providing optimum grip as well as extraordinary hardness. The Shun Premier Tim Mälzer series, from bread knife to santoku, provides professional cutting tools which will set new standards in the premium segment by providing exceptional performance in a timeless design.
True to Tim Mälzer's premise, "A good knife not only makes work easier but also helps to make cooking to turn out well", each of the carefully manufactured damask knives was meticulously adapted to its respective area of use by the Japanese master forgers from Seki City. Due to the particularly symmetrical shape of their walnut handle, all shapes moreover ensure a precise cutting performance for both right-handed as well as left-handed use.

The SANTOKU-BUNKA knife:
¤ the traditional Japanese utility knife
¤ best suited for cutting all ingredients
¤ preferably for the cutting of meat
¤ similar to the chef's knife

¤ Attention:

NEVER use a Santoku knife for chopping bones and fish bones !

Only the

DEBA

knife is suitable for this work.

» All the SANTOKU knives


»
Harumi's Japanese Cooking
Harumi Kurihara

»
The New Art of Japanese Cooking
Masaharu Morimoto

»
Sushi : A Pocket Guide
Minori Fukuda, Kit Shan Li, Raeanne Giovanni-Inoue

»
Japanese Cooking : Contemporary and Traditional
Miyoko Nishimoto Schinner

»
A Dictionary of Japanese Food : Ingredients & Culture
Richard Hosking

»
JAPANESE RECIPES
Welcome to the Japanese Kitchen !